As a woman, obviously my main concern is tending my home, removing every-day stains from things and shopping.  And eating bio-friendly yoghurt.  I also like hearing about products that might interest me personally, as a woman, such as face-cream, diet pills and miracle exercise devices.  OK, that's not true. Though I do love nail varnish.  True.
(Side track:  I recently caved again, and my nails, always polished, were very dark, almost a black purple/blue – in honour of the caves you see, I felt hot pink was perhaps too bright – and lo, the nails emerged from the cave trip all just fine because I cave in luxury Marigolds and my nails, though polished, are not long, because I am a knitter – and a gardener.  So we go for a quick drink after showering and changing, to a real, proper caver pub, which was so nice and cosy inside.  And the landlord, ex-caver I believe and really lovely, serves me a round of drinks and as he gives me my change, with my pint mug of diet Coke, he carefully holds one of my hands by the tips of my fingers as if I was a Princess (which I kind of am) and examines the deep purple nails.  'Now my love', he says, 'what have you been doing with those nails?' To which I was very glad to be able to say:  'I've just done the round trip in GB in these nails!'  By the way, I'd adore to tell you all about it, it involves a waterfall climb again but this time a nice one rather than a more evil wire ladder episode, and if anyone encourages me, I will!)
Recently I have been ruthlessly targeted by advertising campaigns for womanly things that I might need or like.  By 'ruthless' I mean I might have signed up for the brochures.  And emails.  And you see, as a woman, I find it almost impossible to resist this sort of targeting – and this is how I have become hopelessly addicted to…Lakeland.  Have you ever been in one of their shops? Go! no – wait – don't go!  Oh well, I don't know, you decide if you think you are strong enough to resist what is, in effect, crack-cocaine for houses.  You may, unlike me, be blessed with invincible powers of resistance.  Or you may be a man (though a friend has recently given me the glad news that her man likes Lakeland even more than she does).  Even Mark, who aside from his shoe-shopping habit, is not a womanly-man (as it were) likes going in there.
We go in, looking for say, a pepper mill.  That was last time and I can tell you, it's a good pepper mill.  Oh but the lure of the various sections!  It's like the earth's own magnetic force.  I am drawn to the laundry section first, usually.  I love their pegs.  Then there are the baking and roasting sections.  And the cake stands and party things…and the staff are lovely, they know their stuff and they clearly love working there.  I know I would, I'd probably be too enthusiastic though.  That can scare people.  Apparently.
There are things in there that you never even knew existed, so how could you know how urgently you need them?  Then you go in and you find a whole new world of Stuff You Must Have Right Now. Such as this strawberry huller: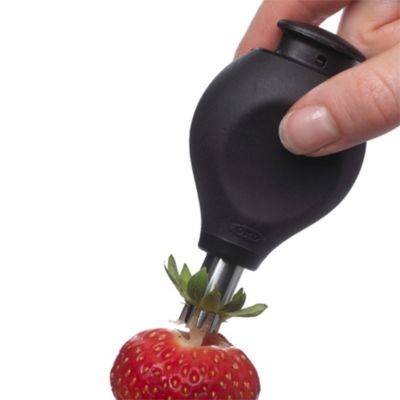 recommended to me by a friend – a simple piece of genius.  OK I can hull a strawberry with a knife but this is fun!
I am currently quite obsessed with their steam-clean range of products.  I'm undecided between some of them so if you have any experience of these, do pop me note on, ta.
~~~
In other news, thank you for the comments and also the emails I have had in response to my question:  what workshops do you think you'd like?  The top answer is cake.  Really? you do amaze me! But then comes learning new techniques, followed by:  a nice day out.  Hurrah, I'll just carry on popping those ingredients in together then.  Certainly, the (easy) techie days such the Moebius workshop are popular.  There is a repeat day for the 2013 Moebius now but only 2 places left.  This is April 2013.  Another experiment was planning an intro to Crochet day for this September.  As you know, I am crochet-phobic or was until Dr Donna got her hook into me, and this is now almost full too.  So, if this is for you, there are only 2 places left.  Anyway, offer still stands, if you ever think:  oooh, I'd like a day about this or that, let me know.  Not you, fiendish lace.
I'm going to add the rest of 2013's workshops to the website next month.  There will be 3 or 4 more I think.
~~~
Finally it's been a bit quiet on the kit front, but I have 4 new kits almost ready to go on.  Mitts, cuffs and scarves.